Linux on Siemens Fujitsu (SCENIC) Mobile 510 AGP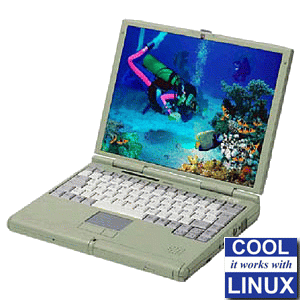 SVGA
Neomagic MagicMedia 256AV (NM2200)
1024x786@16bit
XFree 3.3.x /etc/XF86Config
and XFree 4.0.x /etc/X11/XF86Config both work without problems
http://www.xfree86.org/3.3.6/neo.html
http://www.xfree86.org/3.3.6/neo3.html#3
http://www.xfree86.org/current/Status21.html#21
Sound
Both Sounddriver-families (OSS and ALSA) can be used. With most Linux Distributions the auto-detection fails because the (Neomagic)PCI-Chip emulates an ISA-BUS-Soundcard.

Neomagic MagicMedia 256AV (NM2200) emulates a WSS(Windows Sound System)
if you set it up in the BIOS-Settings.

OSS Sound Driver

Driver "sb" is not working
Driver "es18xx" is not working
Driver "ad1848" & "adlib_card" (WSS) work fine, full-duplex
OSS-Sound must be set up manually and can not be auto-detected.

If the sound software(e.g. xmms) is playing but you don't hear anything, then
press Fn-F6(Mute) once and Fn-F7(Volume+) several times!


# module : ad1848.o AD1848/CS4231/CS4248 Chip
# --> Windows Sound System (MSS/WSS)
#
alias char-major-14 ad1848
options ad1848 io=0x530 irq=5 dma=0 dma2=1
post-install ad1848 /sbin/modprobe "-k" "adlib_card"
options adlib_card io=0x388

ALSA Sound Driver

I changed the BIOS-Sound-Setting from "enable" to "auto"
The Program alsaconf detects a Neomagic 256, which is still not working,
but offers also to autoprobe for Legacy ISA Cards , which did successfully install
an CS4231 Sounddriver:

# --- BEGIN: Generated by ALSACONF, do not edit. ---
# --- ALSACONF verion 0.5.10 ---
alias char-major-116 snd
alias snd-card-0 snd-card-cs4232
alias char-major-14 soundcore
alias sound-slot-0 snd-card-0
alias sound-service-0-0 snd-mixer-oss
alias sound-service-0-1 snd-seq-oss
alias sound-service-0-3 snd-pcm-oss
alias sound-service-0-8 snd-seq-oss
alias sound-service-0-12 snd-pcm-oss
options snd snd_major=116 snd_cards_limit=1
options snd-card-cs4232 snd_index=0 snd_port=0x534 snd_cport=0x538 snd_isapnp=0 snd_dma1=0 snd_dma2=1 snd_irq=7
# --- END: Generated by ALSACONF, do not edit. ---


update 2006-02-15
Kanotix 2005-4 from December 05 is automatically detecting and starting the sound correctly! Congratulations to Kano and his Team!



PCMCIA
Controller: Texas Instruments 1225 -> i82365
I use the PCMCIA-Port for 10, 100MBit and Wireless NetworkAdapters
Floppy & CD-ROM
internal CD-ROM, internal floppy, and battery are all hot-swapable
but have to be connectet during system boot if you want to use them later.
Sometimes I had problems to use the CD-ROM after waking up from Suspend
External Parport-Floppy - no problems
APM
APM BIOS 1.2 - everything works fine. I like the suspend mode - powersaving without rebooting.
COM2=(Fast)irDA
irDA works fine, I succesfully made an ppp connection to my Handspring Visor


USB
Intel 82371AB -> UHCI
works fine, I tried several USB-Webcams, the Olympus Camedia C-220 Digital Camera and the USB-Cradle of the Handspring Visor.


Linux Distributions
I successfully installed the following Linux Distributions:

Suse Linux 7.0-8.1
Mandrake Linux 7.2, 9.0
RadHat 7.2
Debian "Woody" 3.0
Deli Linux 0.1
kmLinux 2.0-3.1, kmLinux TSE
Knoppix 3.1
Speed
732.36 Bogomips


| | | | |
| --- | --- | --- | --- |
| | boot | start KDE | start OpenOffice |
| SuSE 8.1 | 1m25s | 0m40s | 0m07s |
| Mandrake 9.0 | 0m58s | 0m40s | 0m10s |
| Deli Linux 0.1 | 0m14s | - | - |
| DSL 2.0 (boot from CD) | 1m40s | - | - |
| Kanotix 2005-4 | 1m10s | 0m40s | 0m19s (V 2.0) |
| Kanotix 2005-4 (boot from CD) | 1m40s | 1m35s | 2m10s (V 2.0) |
* Alle Angaben ohne Gewähr * no warranty *
02/2006